Designing a new piece involves many, many decisions, but did you know it took us 5 steps and over a month just to decide on the perfect colors for our loungewear?
1. We first imagined the general color range of our sets by creating a moodboard (one part of it is below). We had six colors in mind and shared images of the general colors with the factory. Normally we're able to meet with our manufacturing partners in person to go through the next few steps, but this time each step involved getting a shipment from India.
2. The factory sent small Pantone chips back to us that were all in the same color family as the pictures we had sent them. These chips were colors printed on paper so it can be difficult to imagine how they translate to a fabric. They were pretty spot on with their shade ranges, but the ranges didn't feel exact so we asked if we could get more color samples, this time on fabric.
3. This time the factory sent us fabric cuttings that seemed to better match the colors from the images we had initially sent. At this point, we nixed two of the colors that just were not making us excited and decided to get proper lab dips in our chosen four colors. 
4. Pantone color references OR cuttings from another fabric are used to make lab dips. Lab dips are important because they are dyed swatches of the fabric you are actually using. Before this step, we had not actually seen our color picks on our fabric. We received lab dips that went from lighter to darker in the color that we picked so that we could find the best color match for the fabric quality. We chose among those and gave the go ahead to make a sample. 
5. Samples are made for many reasons, including for the factory to fully estimate the time/cost of a piece, for us to get a final version of the silhouette we're putting into production, and for us to make sure we're happy with the colors we picked. A lab dip takes you part of the way there in imagining how the piece will look, but a sample really puts all the pieces together in your mind. In this case, we were very happy with the colors when the samples arrived. There have been times when we haven't been satisfied by colors and have to go back to step 4 to pick an updated version of the color + get a new sample made.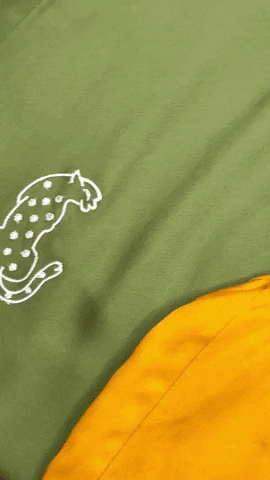 When we started Sani we had no idea what it took to pull a piece together (and we had no idea what a lab dip was!) but we learn more and more every day. Do you like hearing the behind-the-scenes of making a garment? What do you want to see from us next? We'd love for you to comment below and let us know!